As you probably already know, a new device for hair removal pops up pretty much every day. Every one claims to be better than the last one and the last device you will ever need.
Waxing and sugaring (Sugar Wax) have both been around for a long time, however, and are proven techniques for safe hair removal.
People think of waxing and sugaring in the same way and often group the two together, simply because they both involve lifting the hair out by the follicle. The truth is, they are two very different techniques.
So, what are the differences?
One of the biggest differences between sugaring and waxing is that waxing tends to use a strip that pulls hair out in the opposite direction of the follicle growth pattern. Sugaring on the other hand, the hair is pulled out in the natural direction of the growth pattern. Sugaring is also done at room temperature where waxing tends to be hot, hence the term 'hot wax'.
Perhaps the biggest advantage to sugaring is that it is an organic way to remove hair using a simple paste made up of lemon juice and sugar. Because of this, it is much more gentle on the skin than waxing is. Sugar waxing also tends to be much less painful as it pulls less on your skin when removing hair.
The added bonus of this is that you get less redness and skin irritation. Some technicians also add essential oils and honey to their sugars, but that is not standard. If you happen to have any allergies, just ask what your technician's sugaring is made up of.
---
---
Waxing has probably been around longer than sugaring and is a proven method for removing hair. You will also tend to get a smoother result using waxing because it removes the hair from the root. It is also fast and efficient and large areas can be waxed at once. Many people just get used to waxing and never end up trying sugaring so they don't realize that there is a difference.
In comparing the two methods, if you are after an organic method then sugaring is probably the hair removal form that you want to try. Much of it depends upon the pain tolerance of the individual, as any hair removal will result in some level of discomfort.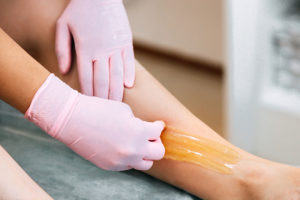 Different people respond differently to different techniques. Sugar paste is molded onto the skin using a gloved hand, while waxing is applied with a strip. Sugaring is also useful for removing shorter hair, as waxing hair needs to have at least half an inch in order to take hold. Sugaring is a more natural solution and is much less sticky than wax is.
This is a huge benefit for people who don't want to see any redness or irritation.
It is also a benefit for people with a low pain tolerance. An added bonus is that sugar can be washed off with water, while wax needs a solution to remove it from the skin which can sometimes contain allergens.
Sugaring tends to last longer than does waxing, but much of the result depends upon the skin type of the person. Sugaring is definitely better for sensitive skin and works better for sensitive parts.
Many people will use sugaring for more sensitive parts and then use wax for something like their legs, simply because waxing is faster and the legs are less sensitive.
Both techniques will work for hair removal, that's for sure. Whether sugaring or waxing is better for you, depends upon various factors. Overall, if you have sensitive skin, sugaring is most likely a better option. If you have ever experienced skin irritation after waxing, then why not give sugaring a try?
You may find that you like it and you may find that it doesn't make much difference. However, most people who make the switch to sugaring end up not going back to waxing.